2016 The Little White Box GSM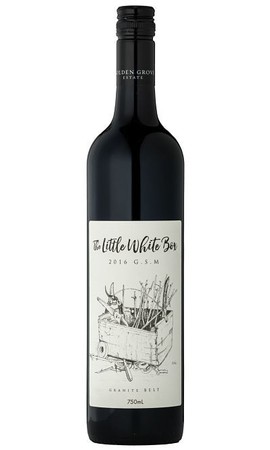 Wine Specs
Fermentation
Stainless Steel Fermenter
Bottling Date
6th of July 2017
The Little white box is a wine dedicated to Granite Belt alternative variety pioneer Sam Costanzo, A huge fan of Grenache he grafted over 2 rows of Merlot to this majestic variety with the view of creating a Granite Belt Grenache in the classic form.
The little White Box is Sam's very own Grafting box and one his most treasured possessions that he hand built when he was 16 and still uses to this very day. It contains everything that Sam needed to graft the hundreds of vines all over the state and on his very own vineyard. A specialist skill, Sam spent many long hours Grafting over table grapes to earn some money and was even flown to the then Golden Mile Orchard in Mundubra to graft Muscat grapes when he was 17, a real thrill back then for a young man.
The Little White Box was hand sketched by Laurie Astill. A local Artist who settled in the Granite belt in 2009, Laurie won the Southern Downs Regional Art Prize that year with a portrait of his daughter Megan and his paintings were also selected for the Stanthorpe Art Festival in 2012 and 2014.
His painting "The Picnic" won the 'Margaret Burton Memorial Prize' for the 2016 Art Festival
Review
Click here to read the QWine Review of the 2016 Little White Box GSM
Wine Specs
Fermentation
Stainless Steel Fermenter
Bottling Date
6th of July 2017
Wine Profile
Tasting Notes
Forrest floor and spicy Grenache fruit on the nose held in place with a touch of French Oak. The palate is soft and supple with ripe vibrant fruit supported by chalky tannins and an ever so slight citrus twist. Drink now to 8 years.
Winemaker Notes
60% Grenach, 20% Shiraz, 20% Mourvedre. The best barrels were selected and blended in secret.
Production
1200 Bottles Produced
Product Reviews