Vermentino Trio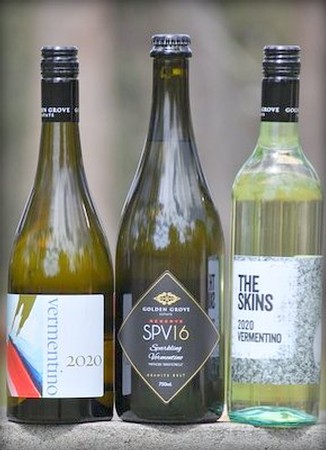 2016 Reserve Sparkling Vermentino
A true artisan product. The base wine was barrel fermented with wild yeast, tiraged, then matured on lees for 2 years. Disgorging was done by hand and then bottled matured for a futher 2 years.
The result being a fresh, complex and unique wine.
Only 400 bottles produced.
2020 Vermentino
One of our signature wines, 20% French oak barrel fermentation with wild yeast. A small portion being fermented on skins to add texture and depth. Pear, citrus and tropical fruit on the nose and a rich and creamy palate.
The perfect wine with pasta marinara.
The Skins 2020 Vermentino
This wine was crushed and fermented on full skins for 10 days with plunging twice a day to extract maximum flavour from the skins. Mandarin peel, ginger, spice and white flowers on the nose. The palate is textured and full flavoured lending itself to accompany richer dishes.
This wine showcases the true versatility of Vermentino.