NV Marnita Muscat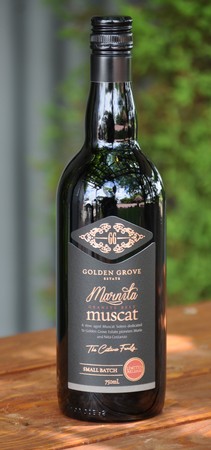 This aged fortified Muscat has been made from fruit off vines that are over 75 years old. The Muscat vines form part of the original vineyard planted as table grapes by Mario and Nita Costanzo after settling on the block "Golden Grove" in the late forties.
Today the grapes are grown only for fortifying and remains the only vineyard planted by Mario and Nita. Winemaker Ray Costanzo has dedicated this wine to his late Grandparents Mario and Nita, hence the name "Marnita".
Wine Profile
Production Notes
Aged in 300L Hogsheads for as long as possible in a modified solero system. Average age of this blend is now around 15 years old.
Food Pairing Notes
Christmas Cake. Served with or use to soak the cake in.
Production
1050 bottles produced
Product Reviews
Eliza Podesta
(16/02/2021 at 6:38 PM)
I was originally gifted a bottle and fell in love with the flavour. Reminds me of Christmas spend with my Grandfather eating booze filled fruit cake. Recommend to everyone
Richard Bretnall
(19/05/2022 at 1:34 PM)
Smooth not too sweet with a long aftertaste. The best Muscat I have tasted