Meet Raymond Costanzo
Golden Grove Estate Winemaker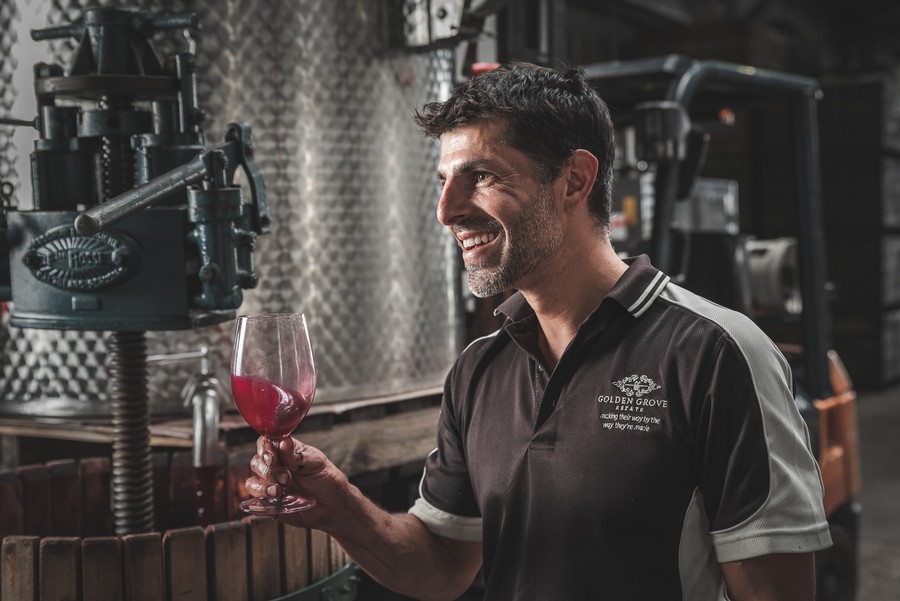 What made you decide to become a winemaker?
"I was born and breed into the industry. As a third generation winemaker I grew up in the winery under my father Sam and grandfather Mario. Always getting dirty and always making mischief."
What did your introduction to winemaking look like?
"I grew up under a lot of great winemakers and also had two MWs (Masters of Wine) around quite often. At the end of the day winemaking was just what we did on a day to day basis, part of everyday life for me."
What does your day-to-day actually look like?
"I taste a lot of wines, lots of cleaning, lab work, bottling, labelling, marketing. There is always something to do!"
Do you have a favourite product, or one you're most excited about?
"Our Rose Brose – Rose is really hard to make well. Balancing freshness with texture and aromatics all the while being aware of the final colour is also so important, a challenge for a colour blind winemaker.
But I also love Vermentino and Tempranillo."
Do you have a favourite tool in your trade, that you just couldn't live/work without?
"My Bluetooth speaker!! You can tell what mood I'm in by what's blasting out through the winery, and of course my bottling line."
What do you wish everyone knew about your wines?
"They are hand made from estate grown fruit (99% of the time when mother nature plays well). Made with honesty and integrity that are hands down great value for money while being at the top of the tree for quality."
When you're not making wine, what do you like to do out and about on the Granite Belt?
"I love to ride whether it be my MTB on the local trails or my Road bike when training for Triathlons. Top gun drone pilot, Ballet dad extraordinaire and of course proud rural firefighter with the Eukey Rural Fire Brigade."
Where you'll find Raymond…
"While I don't get to the front of house often , you will see me floating around the place but always happy to have a chat about wines that we make and the Granite Belt if you ask."