2014 Durif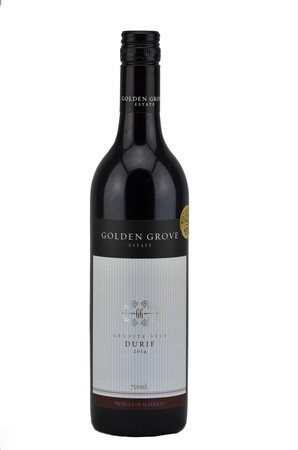 Wine Specs
Tannin
Firm chalky tannins
A big rich dense wine without the alcohol invasion. Deep red with purple hues and a nose of blackberry, licorice and some Asian spice. The palate is full of rich, sweet fruit, firm ripe chalky tannins that persist on the palate carrying the fruit along for the ride. A Golden Grove Estate Classic with pedigree beyond many seen in this country. Drink now for firmness or tuck away in a dark corner for 15years.
Wine Specs
Tannin
Firm chalky tannins
Wine Profile
Tasting Notes
Dark in colour and full of ripe earthy berry fruit. Firm sweet tannin's that don't dry out your mouth.
Awards
2015 Rutherglen Wine show - Top Gold, 2016 Qld Wine Awards - Silver
Vineyard Notes
As always a lot of work goes into our Durif vineyard to ensure the very best product.
Food Pairing Notes
Game meats best match the robustness of this wine.
Production
3323 bottles produced