2019 Tranquillo Bianco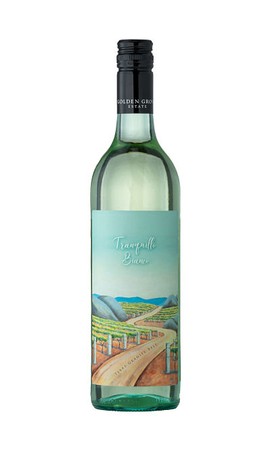 Wine Specs
Aging
Drink Now to 3 years
Fermentation
Stainless Steel Fermenter and Oak
Tranquillo Bianco" or peaceful white is a soft easy drinking style of wine perfect for all occasions. Aromatic and fresh on the nose with Granite Belt minerality shining throughout the palate.
Wine Specs
Aging
Drink Now to 3 years
Fermentation
Stainless Steel Fermenter and Oak
Wine Profile
Winemaker Notes
A blend 45% Sauv Blanc, 24% Vermentino, 16% Chardonnay, 12% (2018) full solids Semillon, 3% White Muscat
Food Pairing Notes
The refreshing nature of this wine suites anything from seafood to spicy curry dishes
Other Notes
Artwork by local artist Laurie Astill. Tranquil Vineyard Vistas is a painting depicting the deco roads, granite boulders and vineyards of Ballandean with the rolling hills of Sundown National Park in the background. Laurie won the Southern Downs Regional Art Prize that year with a portrait of his daughter Megan and his paintings were also selected for the Stanthorpe Art Festival in 2012 and 2014. His painting "The Picnic" won the 'Margaret Burton Memorial Prize' for the 2016 Art Festival
Product Reviews
Mark C.
(04/10/2019 at 11:43 PM)
Cracked a bottle of this little beauty tonight and it was very easy to drink.